40-ton ARA Single Sheath Box Car
Baltimore & Ohio
No.2654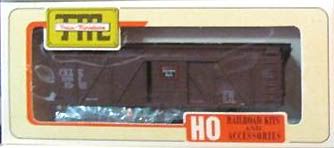 40-ton ARA Single Sheath Box Car
CB&Q -Burlington
No.2655
40-ton ARA Single Sheath Box Car
Chicago & Illinois Midland
No.2652
40-ton ARA Single Sheath Box Car
Louisville & Nashville (not pictured)
No.2659
40-ton ARA Single Sheath Box Car
Missouri Pacific (not pictured)
No.2658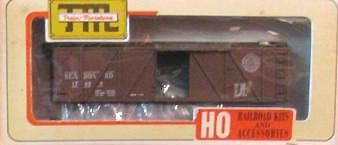 40-ton ARA Single Sheath Box Car
Seaboard Air Line
No.2653
40-ton ARA Single Sheath Box Car
Virginian
No.2651
40-ton ARA Single Sheath Box Car
Union Pacific (not pictured)
No.2657
40-ton ARA Single Sheath Box Car
Western Pacific
No.2656
40-ton ARA Single Sheath Box Car
Undecorated
No.2650
The 1975 retail price for Train Miniature's 40-Ton A.R.A. Single Sheathed Box Car kit was $2.75.
What is ARA?
Many of the freight cars in the Train Miniature line included "A.R.A." in their description. The American Railway Assocation (A.R.A.) was, "an industry trade group representing railroads in the United States" according to Wikipedia.org. The A.R.A. first began setting industry standards in 1872 and continued to function until 1934. The A.R.A. was one of the groups that merged into the American Association of Railroads (A.A.R.), which continues to serve the industry today.
The reference to a particular model being an "ARA" example means its design in based on plans/standards set by the American Railway Association and utilized by member railroads in constructing rolling stock that could easily interchange thanks to similarity that made for good compatibility.