40' ARA Steel Reefer
Amercian Refrigerator Transit -CNW/MP (not pictured)
No.2509
40' ARA Steel Reefer
Amercian Refrigerator Transit -WAB/MP
No.2352
No.2502
40' ARA Steel Reefer
BAR -State of Maine
No.2541
No.8071
40' ARA Steel Reefer
Cardox Dry Ice
No.8105
40' ARA Private Owner Steel Reefer
College Foods
No.2534
40' ARA Steel Reefer
Data Only (Reefer Orange) (not pictured)
No.2542
40' ARA Steel Reefer
Data Only (Reefer Yellow) (not pictured)
No.2543
40-foot ARA Steel Reefer
Merchant's Dispatch -Illinois Central
No. 2510
40' ARA Steel Reefer
Mid-States Packers
No.8126
40' ARA Steel Reefer
New York Central -Early Bird
No.2353
No.2503
40' ARA Steel Reefer
Pacific Fruit Express -UP/SP
No.2351
No.2501
40' ARA Steel Reefer
Pacific Fruit Express
No.2508
40' ARA Steel Reefer
Pacific Fruit Express (Aluminum)
No.2512
No.8122
40' ARA Steel Reefer
Patrick Cudahy
No.2380
40' ARA Steel Reefer
Railway Express Agency
No.2356
No.2505
40' ARA Steel Reefer
Rath Packing Co.
No.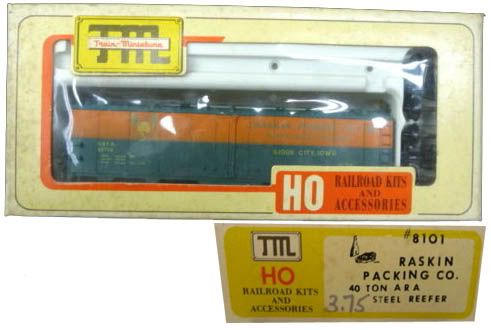 40' ARA Steel Reefer
Raskin Packing
No. 8101
40' ARA Steel Reefer
Safeway Foods
No.2354

40' ARA Steel Reefer
Santa Fe -Super Chief
No.2357
No.2506
40' ARA Steel Reefer
Spencer Chemical
No.2739
40-foot ARA Steel Reefer
Undecorated
No. 2500
40' ARA Steel Reefer
Union Refrigerator Transit -Erie
No.2355
No.2504
40' ARA Steel Reefer
Western Fruit Express -Great Northern
No.2507
No.2358
What is ARA?
Many of the freight cars in the Train Miniature line included "A.R.A." in their description. The American Railway Assocation (A.R.A.) was, "an industry trade group representing railroads in the United States" according to Wikipedia.org. The A.R.A. first began setting industry standards in 1872 and continued to function until 1934. The A.R.A. was one of the groups that merged into the American Association of Railroads (A.A.R.), which continues to serve the industry today.
The reference to a particular model being an "ARA" example means its design in based on plans/standards set by the American Railway Association and utilized by member railroads in constructing rolling stock that could easily interchange thanks to similarity that made for good compatibility.