TYCO offered a variety of Power Packs during the run of The Brown Box Era. Train sets came with the standard 1-amp Tyco-Pak (#899) throughout the 1970s and into the early '80s. In 1982, TYCO introduces a new 1-amp Tyco-Pak (#895) that is black in color with a blue throttle. The Tyco-Pak (#895) becomes standard in train sets from 1982 through the end of TYCO's train line offerings. After 1983, the 1-amp Tyco-Pak (#895) remains as the only power pack listed as a separate accessory in product catalogs.
Power Packs were sold by themselves in the TYCO product line and included simple models to power a single train operation to more advance units capable of controlling two trains at once.
A note to those attempting to make a train set function, it is not necessary to use a TYCO Power Pack with TYCO trains. One could utilize any standard model train hobby DC transformer to operate a TYCO train engine.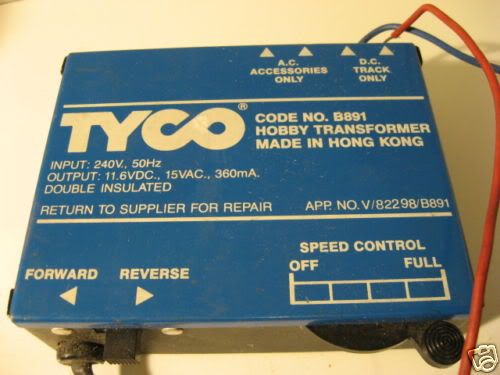 Tyco-Pak
No. B891
Tyco-Pak
No. 895 -1982 Release
This item was introduced in the 1982 catalog and became the standard issue power pack in TYCO train sets through the end of production. It was a 1-amp AC-DC pack.

Tyco Master-Pak
No. 897 -1971 Release
TYCO cataloged this 2-amp pack from 1971-1979.
Tyco Dual-Pak
No. 898 -1971 Release
TYCO cataloged this pack from 1971-1979.
Tyco-Pak
No. 899 -1971 Release
Tyco-Pak 3
No. 993 -1981 Release
Featured Transistorized Proportional Tracking Control; Momentun on/off Switch; Spring Loaded Brake Switch; Directional Control Switch; Power Monitor Light and Automatic Circuit Protector.

Tyco-Pak 4 Dual-Pak
No. 996 -1981 Release